JOURNAL
Donegal - Tweed of worldwide repute
While it borders Northern Ireland, Donegal is the northernmost county in the Republic of Ireland, a land historically ravaged by the wild elements of the Atlantic Ocean with shipwrecks aplenty - there are more Ocean Liners, German U-boats and Sherman Tanks sunk off these shores than anywhere else in the World.
No matter where you are in Ireland you'll find that myths and legends are never far from conversation - and Donegal is no different. The Northern Lights have historically shone iridescently as far south as Malin Head, the county's remote beacon of unspoilt beauty and one wonders whether these beautiful dancing waves of whimsical light have subconsciously influenced the design of its finest export - the aurora borealis have been around since the 1600s afterall.

While the weaving mills in County Donegal produce a number of different tweed fabrics, including those featuring both herringbone and check, Donegal's world renowned tweed - a coarse fabric that was originally handwoven by part-time weavers, fishermen and farmers in the late 1800s/early 1900s, has a propensity for dissipating the damp and colder climes that have come to define the rugged Emerald Isle. The raw, oily fabric was traditionally washed in the peaty waters of the River Eske, resulting in a softer than you'd imagine hand-feel.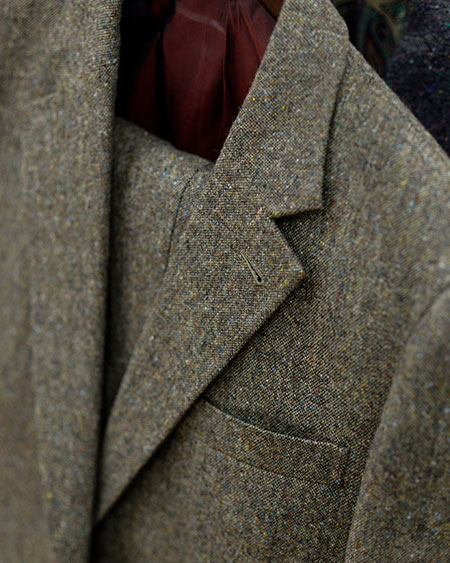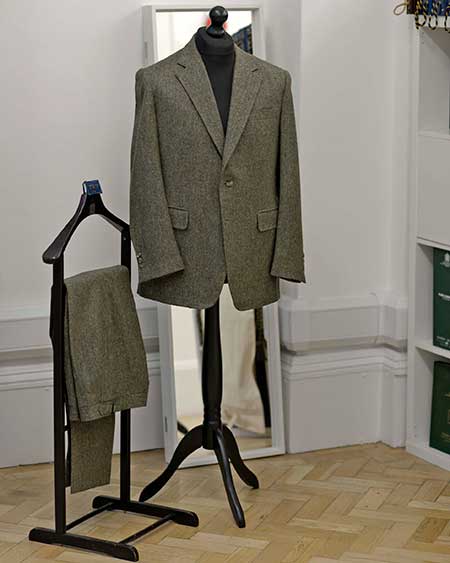 The tweed is characterised by a plain-weave cloth of differently-coloured warp and weft, with small flecks of yarn in eye-catching hues: everything from heather purples, grassy greens, fuchsia pinks, gorse yellows, sea blues and earthy browns, all woven intermittently into the mix to create what's known in the trade as a heathered effect.

Donegal Tweed came to international prominence in the 1950s and 60s when Irish fashion designers let its speckled-prowess loose on the couture runways. Designers such as Sybil Connolly (who often utilised tweed for coats, capes and twin-piece suits) and her contemporaries Irene Gilbert and Neilli Mulcahy helped put the dashing fabric firmly on the map.

Huddersfield Fine Worsteds first welcomed Donegal Tweed into the fold back in 2020, contained within the new Alsport bunch where it provides a perfect foil for the other classic tweeds. It was two years in the making, says Managing Director Iain Milligan. "On initial inspection of the original Donegal cloth we deemed it to be too loose and drapey for our purposes." So his design team worked closely with their counterparts in Ireland to create what Milligan calls "their own take on the original to achieve a more robust cloth. Using their colours, their yarn, but making it bespoke to us, with the Made in Donegal label gives our guarantee of authenticity. It's a cloth which we refer to as being 'packed with yarn' which has great shape-retention benefits. Importantly, the tight construction of the fabric means it can be worn several times over without the constant need for pressing, that say, a less substantial fabric would require. The only place you can get this fabric is through us. What we wanted was something you could go hunting, fishing or shooting in that would perform as a pair of trousers, plus fours and plus twos." Of equal importance was the heavier jacket you'd expect to accompany the lower half. "We spent time running trials of various cloth setups, putting more yarn into it to make it a more robust product that evokes the whole heritage of this unique cloth. We envisaged the complete head-to-toe ensemble completed by a Baker Boy Hat."
Donegal sits within the Alsport cloth bunch, which is all about country pursuits in chillier climes between autumn and spring. "It's a bunch which evokes genuine heritage and we wanted to make sure ours was the best Donegal out there", says Milligan, "something that should stand head-and-shoulders above our competition." But Donegal is not exclusive to country pursuits suiting - it matters not if you're Monarch of the Glen, Donegal Tweed is equally at home on less salubrious occasions. Indeed it's the perfect cloth to break the dreaded no brown in town conundrum, so do not rule out commissioning a bespoke one-piece Donegal sports jacket which can look particularly stylish paired with a blue herringbone spread-collar shirt, grey flannels or dark denim and a pair of dark brown suede Chukka boots. If you're looking for a formal silhouette, opt for a structured wider notch lapel with angled ticket pockets; equally if you're wanting a more relaxed vibe then dispense with the shoulder padding and opt for an unstructured version with patch pockets which will immediately render the sports jacket 'less suity' in appearance.
Don't rule out a timeless top coat made from Donegal Tweed either - preferably with traditional raglan sleeves, perhaps in a blue (Alsport 258150) or grey (Alsport 258148).
Check out the whole range
here
(Alsport 258147-258153)
---