Our Summer Breeze bunch, which is hard to believe only launched in February this year, has been a real success story so far: made up of natural spring fibres such as silk and linen which are intimately blended with fine Australian Merino to create a refreshing cloth with jewel-like colours and texture - that with wear, develops a relaxed but formal appearance.
The collection bears all the essential ingredients for a classic summer wardrobe and will have you hot weather ready for when the mercury starts to soar: light and comfortable to wear, so light in fact, you hardly know you're wearing it. When finely tailored the jacket or suit will exude personality while being adaptable and wearable for any number of occasions. Whether it's a 2-piece suit or a jacket it can be worn with a manifold of trouser combinations. The cloth is produced using the best quality Italian yarn and woven here in the textile power house of Yorkshire. Geoff Wheeler of HFW admits that while there's a lot of similar fabric on the market, "ours is slightly heavier and allows more shape when tailored. It's been a massive success story: I've never seen anything fly out the door so fast as Summer Breeze. The initial manufacturing run has sold out twice and Wheeler admits "We can't get it in quick enough, basically. We never expected to go through the amount of stock we have."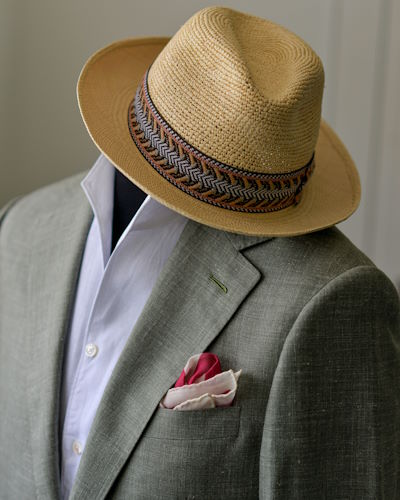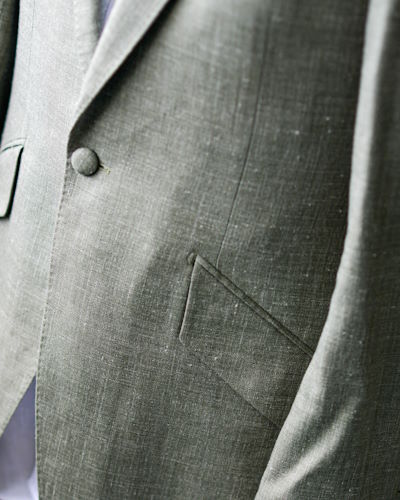 The fact that Summer Breeze is available in a variety of block colours in aesthetically pleasing summer hues and only has a subtle fleck within the weave means a tailored jacket can be combined with either plain-coloured trousers in a complimentary tone or even lighter-weight summer denim. A case in point is Lee Osborne, our Social Media Manager, who is pictured below at the recent Pitti Uomo wearing dark brown gabardine trousers with his Summer Breeze jacket in sage green
Product: 261706
) but cream, white or navy or even black could work equally as well.
---