JOURNAL
Our Fabrics In Use: Bamboo: Heron's Ghyll
Bamboo has featured in various jacketing bunches from Huddersfield Fine Worsteds over the years. In fact, it became so popular that we began experimenting with our Italian weaving partners in order to further improve it. So much so that it now boasts a standalone version of the cloth bunch which is styled in-house and woven in Italy. We pride ourselves on its exclusivity and the fact these 9oz highly sought-after fabrics cannot be sourced through any other supplier. Revered for its luxurious handle and unique soft lustre, Bamboo has been produced in a multitude of ground colours, many of which were unobtainable until recently, in both plain and windowpane check designs. Natural slubs add texture and movement, highlighting the fabric's inherent sheen, which is suitable for year-round wear.
HFW's Bamboo has developed a bit of a reputation for itself with sartorial devotees from across the globe clamouring to cloak themselves in not only the environmentally-friendly nature of the cloth but its host of technical benefits it brings to the cutting table: the small airways which naturally exist within the fibres mean it's wrinkle-resistant, hypoallergenic, moisture-wicking, odour-resistant, anti-bacterial and antifungal among many more of its attributes. Taking to the needle like a fine worsted wool, the fabric is woven from 100% Bamboo cellulose fibre - emanating from that same familiar family of grass plants with rapid daily growth rates, and is a fine alternative to tropical wool, cotton-linen and wool-silk.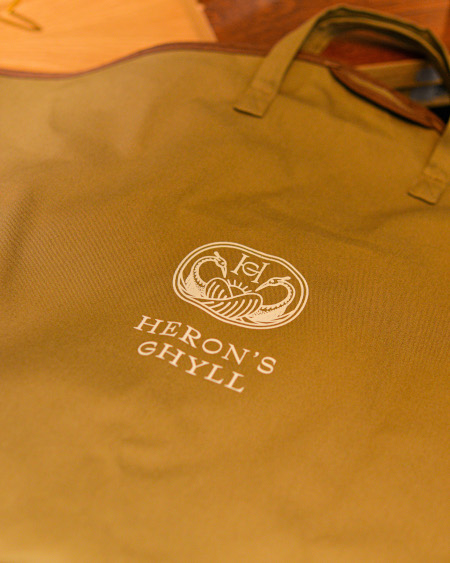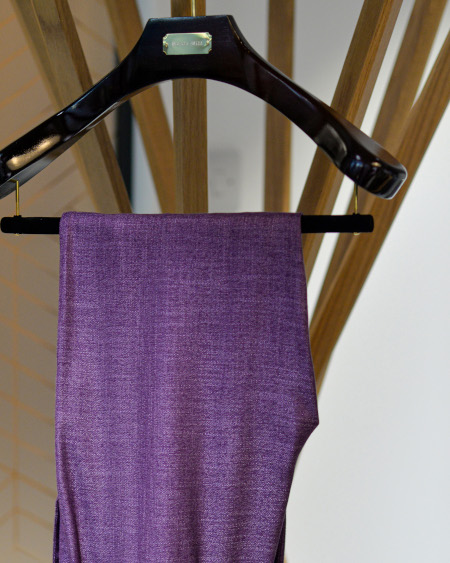 Mark Francis, Heron's Ghyll
Mark Francis, a native of Kuala Lumpur in Malaysia who founded the London-based tailoring brand Heron's Ghyll in 2020, is one such devotee. Francis began his career in investment banking and strategy so a suit has always gone hand in hand with that profession: "I'm from Malaysia originally, but I'm not Malay, I'm a mix of different races. So hybridity and cosmopolitanism are very central to my brand. I've been wearing suits for a long time, everybody growing up in Malaysia has their own tailor to an extent, but I think one of the things that was interesting to me, was why I was wearing a wool suit in Malaysia?" Francis confesses Linen wasn't even acceptable in a corporate context, which prompted a slight rebellion within him: "I wondered what else could there be if we stopped adhering to this template?" While the majority of the suits in his own wardrobe have more traditional lapels and are made of worsted wool, he says what really appeals to him tends to be the really unconventional. It's not the traditional, what Francis terms 'scratchy' wools, as he has particularly sensitive skin: "The concept of Bamboo, being so central to Asia obviously jumped out to me, and also the colours. I respond very strongly towards colour as opposed to the conventional greys, browns and blues, but a pop of colour every now and again is interesting". Francis was immediately drawn to the Bamboo bunches from Huddersfield Fine Worsteds as they were "very interesting". He'd seen what other people had done with the cloth: "I think it looks very appealing when it's structured with canvassing, but I really wanted to liberate it completely so that it was as drapey (it's such a drapey fabric) so soft and feels so good against the skin, and so versatile". Geoff Wheeler, of HFW described it as being like "a very lightweight cashmere in terms of its delicacy and its insulating properties".

Francis says the initial product in his tailoring adventure was a set of coordinates, "marked by a mandarin collar, or sand collar, a curved one which I spent a lot of time perfecting and that's broadly the template in which I want to work going forward". He says part of his sartorial rebellion is to slowly keep unfettering and restructuring: "instead of full canvassing, I'd go half canvas, looking for the lightest canvas I could find, maybe even without canvassing, to give it the slightest semblance of structure without overly sturdifying it". He was adamant he didn't want the suit to be lined because he loves the feel of the Bamboo against his skin, "so I went for a very lightweight interlining. While I want to continue pushing the boundaries of colour, the truth is for everyday wear, dark colours like navy blues and blacks, and also for formal wear, are a demographic my clothes appeal to the most: it really is the Wedding customer".

Francis had come across Bamboo fabric before but he'd struggled to find something that was tailoring appropriate: "Typically Bamboo viscose is used in shirts as a silk replacement, but they are too soft, and the softer and more delicate they are the harder they are to work with. With HFW it's all about the quality, the thickness, the hopsack weave which makes it very interesting. And it's a stable fabric which I like".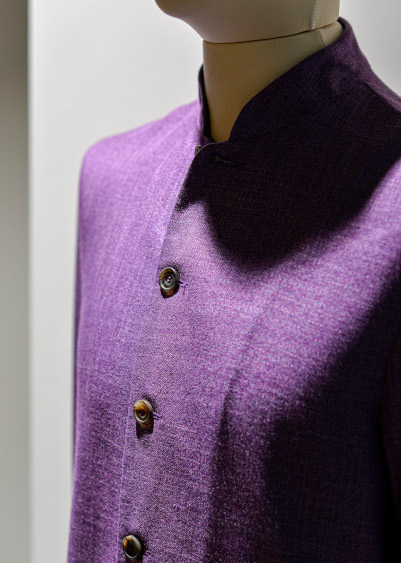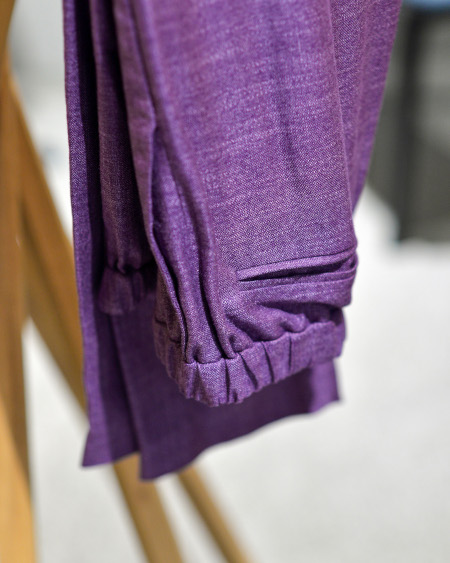 What made you give up investment banking for tailoring?
I loved investment banking, but as a child, I always had an interest in clothing and fashion. But I didn't quite know where I'd fit in. I worked for Farfetch in London after studying for my MBA but that was very fashion-focused. Part of me is the fashion customer and another part of me is the menswear customer and there are certain aspects of both I like and dislike" who always knew this was the industry he wanted to work in, "and deep down I knew I wanted to create my own brand but I guess initially I was afraid of doing it because it's so hard".
Tell us a little bit about the name Herons Ghyll...
"First of all I knew the supply chain would be UK and specifically London-based, I think local manufacturing is very interesting to me". His long-term goal is to open up an atelier - and by that, he says, "I don't mean a Savile Row type house, but an atelier in the same vein as a couturier of yesteryear". He needed a name that resonated as quintessentially English: "To me, Heron's Ghyll just sounds very exotic, but there is a personal connection too as it's where my husband is from" (the village in East Sussex). "Equally, the heron could be Asian or English, I add. "Good point, I hadn't thought of that".
Where do you manufacture your suits?
"My workshops are all based around North London; the primary one is in Finsbury Park but I have others in Stratford and Stoke Newington because I think it's helpful to diversify in case any of them are unable to fulfil an obligation". Francis admits he hadn't realised how fundamental it was to be in such close proximity, so he can be super hands on. "I'm a bit of a control freak: usually you would engage with a factory, you'd work with a project manager to create a range, then you'd give them some sketches and they'd create a sample for you - but I needed input on things like buttons, the quality of the interlinings, things that aren't visible. I buy all of that, I source all the fabric, scrutinise everything, I do tests and then I take it over to my seamstress and she does everything from there. So I need that level of input and control. The only thing I don't do is sew but everything else I do".
Heron's Ghyll Bamboo Silk mandarin suit
While Francis talks me through the finer details of the Purple Bamboo Silk mandarin suit (which is also available in Indigo and Gold check) displayed on a mannequin in front of us, he ponders just how much growing up in Malaysia influenced him, "in terms of it being so hot and humid that you just want things that drape, right? What I like about the mandarin collar is that I didn't want it to be too high, there's an implied formality when collars stand too tall and I love this gradual curve - and I know it's a minutiae detail, but honestly the number of iterations we went through to get the desired effect!" In terms of the trousers, "for me comfort is paramount" - he's added elastic to the waistband but they're still quite formal at the front. Zips are sourced from Switzerland and stress-tested "because I wanted something very strong that doesn't burst while still being smooth enough to zip up and down". Horn buttons are sourced from The Lining Company.
https://www.heronsghyll.com/
View our entire Bamboo collections here:
https://www.hfwltd.com/collection/119
https://www.hfwltd.com/collection/101
https://www.hfwltd.com/collection/56
---