JOURNAL
Well suited
We are thrilled to welcome back the Neapolitan double act of bespoke trouser maker Marco Cerrato and tailor Vincenzo Cuomo now that Covid restrictions have begun to ease and their trunk shows can recommence. Lee Osborne caught up with the pair in between fittings in our new Regent Street showroom.
As I arrive, the Neapolitans are sat admiring their new surroundings - it's the first time the pair have hosted a trunk show in our pristine new premises - and they seem impressed with its white-washed high ceilinged interior, dedicated changing room and consultation space with our Royal Warrant insignia sitting proudly aloft. Both are unmistakably, quintessentially Italian: Cerrato immaculately-attired in a navy double-breasted suit and Cuomo, cool as a cucumber rocking the Milk Tray Man vibe, dressed head-to-toe in black, barring a rather flamboyant fluffy cream cardigan and black Oxford lace-ups - pausing to hand around obligatory espressos before we start to chew the sartorial fat.
When and where did you guys first meet?
Marco:
I have known Vincenzo since he was, what we refer to in Italian as, a 'Zagazzino' - a small child. He's the nephew of a very good tailor who we've collaborated with in the past.
What part of Napoli are your ateliers based?
Marco:
My atelier is located on Via Toledo on the edge of the famous Quartier Spagnola. The Neapolitan dialect is considered stronger here than anywhere else. Created in the 16th century to house Spanish garrisons whose role was to quench revolts from the Neapolitan population, the area comprises some 800,000 square metres, housing a grid system of around eighteen streets by twelve and home to 14,000 inhabitants.
Vincenzo:
Mine is on Via Monte di Dio in Palazzo Serra di Cassano, a prestigious aristocratic residency in the San Ferdinando district. But I'm in the process of relocating to an adjacent street. It will be the end of an era - the bright octagonal courtyard has been the privileged view of Sartoria Cuomo for over sixty years.
I'm interested to know whether Cuomo just makes jackets and leaves the trousers to Cerrato or does Cuomo sometimes make the full suit? If so, what are the advantages of this type of arrangement?
Marco:
The benefits of having a dedicated tailor join forces with a specialist trouser maker are tenfold. When I first started to come to London on my own, I would always receive excellent feedback from my English customers, who appreciated my discreet and attentive service and who've since put their trust in me. They would often ask if I knew of a Neapolitan tailor with these same attributes, so, I immediately thought of Vincenzo, who, as well as being a talented tailor, is a serious and professional guy. Essentially two professionals in their field joined forces to create the perfect suit or jacket and trousers combination. Vincenzo concentrates on the upper half and I deal with the lower half.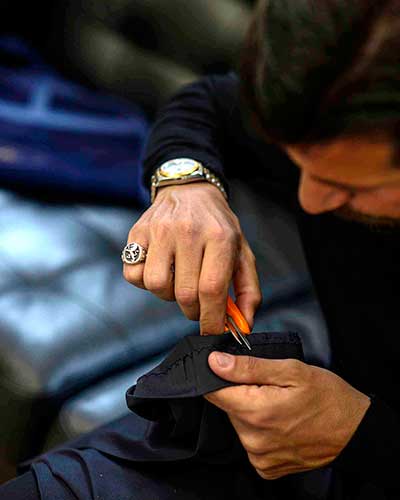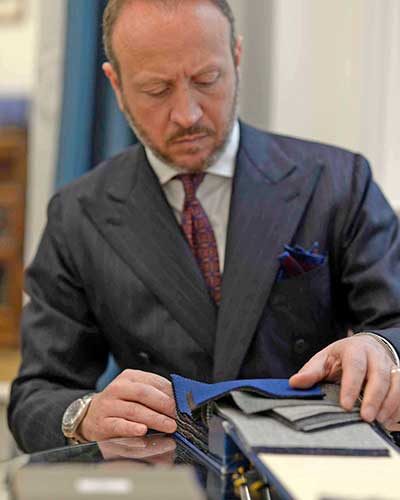 Tell us a little bit about the history of your two tailoring setups...
Marco:
My story is a little long, what I can say is that I hail from an ancient family in this profession. The trouser-making business was set up by my Father Ciro, who initially worked as a presser in the workshop of Antonio Mola when he was just thirteen years old. He went on to marry one of the hand-sewers there, and the two of them left to set up their own workshop when Ciro was 20. Initially my work was carried out in a different way, I worked for tailors, but gradually I projected myself more on the private customer, because that was what I liked doing, working for myself. That's how my foreign customers came about and from there the trips and Trunk Shows became a reality.
Vincenzo:
Stitch by stitch, time-honoured techniques and secrets of the trade have passed from hand to hand, from my uncle Raffaele to his nephew Ciro and then to me. I have been fascinated by this noble art since childhood, and often spent time in the workshop when I was growing up watching intently and observing. Finally, after a long time working my way up the ladder, I have two years of cutting and sewing under my belt.
What specifically defines a pair of Cerrato trousers?
Marco:
My trousers are defined more than anything else by the fitting, I prefer a soft and comfortable line, but giving a sinuous but not too exasperated look - difficult to explain everything, you have to try for yourself!
Vincenzo:
Cerrato trousers follow the rule of the Neapolitan school: high on the waist, with a rich mandesino front, with meticulously spaced and tight pleats, rigorously unlined to guarantee the best thermal response from the fabric, from the heat of the summer to the cooler climes of winter.
What features typify a Cuomo jacket?
Vincenzo:
Everything has always been done strictly by hand. As it always was. From the design of each model, to the cutting, the tacking and application of canvases and linings, to the stitching and finishing of every detail. The jacket of Sartoria Cuomo is born out of a traditional jacket, with a distinctly Neapolitan slant, soft, without being extreme, which follows the volumes and proportions of the wearer, enhancing his figure. Whether it's single or double-breasted, the lapels are never small but rather important and expertly rolled; the shoulders without padding; straight quarters; the high and sumptuous vents cut to always close perfectly; the pockets are cut at the height of the last button - and we endorse the use of the patch pocket, particularly with sports jackets. All seams are re-stitched by hand.
Typically how long does it take to complete a jacket and trousers from the first measurements being taken in London?
Marco:
So 3 months - with 2 fittings is usually enough for an individual pair of trousers.
Vincenzo:
From the choice of fabric, to the style of the outfit and its unique set of measurements, there are always at least two fittings before the suit is delivered in around two months.
---