JOURNAL
Lafayette Saltiel Drapiers x Acre & Row Atelier
BEDFORD CORD
Words, photography and video by Lee Osborne
@sartorialee
LAFAYETTE SALTIEL DRAPIERS, PARIS
The story unfolded after I'd visited the esteemed fabric vaults of Lafayette Saltiel Drapiers in Paris for the first time two years ago. I immediately fell in love with the place. I kind of knew I would. I'd heard on the grapevine that not only did owner Virgil Viret have arguably the finest collection of vintage cloths in the world, but within this vast haul, had a couple of rolls of Huddersfield Fine Worsteds vintage Bedford Cord. But what's so special about Bedford cord you may well ask, and why would I be drawn to it specifically? I was intrigued that HFW had ever produced a cloth named after my local town of Bedford. It seemed too good a coincidence not to pursue the story. I'm an Essex boy but I've spent the majority of my life living in Bedfordshire and developed a real affinity with the county I now call home.
Researching the story I was fascinated to discover that Bedford cord also had a Gallic connection, centuries before the HFW rolls had ended up in the Sentier district of Paris (an area historically renowned as a multicultural textile and garment manufacturing district) on Virgil's shelves. I like to think it's a happy coincidence. According to
fabriclore.com
, Bedford Cord was produced in Britain around the 14th century by Flemish weavers and due to the name of the town where it was first produced, became known as the 'Bedford'. It's a durable, heavy-weight, warp-faced fabric featuring vertically aligned ribs, similar in appearance to Corduroy and was subsequently the fabric employed by the Duke of Bedford, a certain John of Lancaster, in the late 15th century to clothe his troops - the vintage version of the cloth was particularly tough and hard-wearing. In an extract from Wikipedia, Lancaster is noted as being "a medieval English prince, general and statesman who commanded England's armies in France during a critical phase of the Hundred Years' War. He was the third son of King Henry IV of England, brother to Henry V, and acted as Prince Regent of France for his nephew Henry VI. Despite his military and administrative talent, the situation in France had severely deteriorated by the time of his death."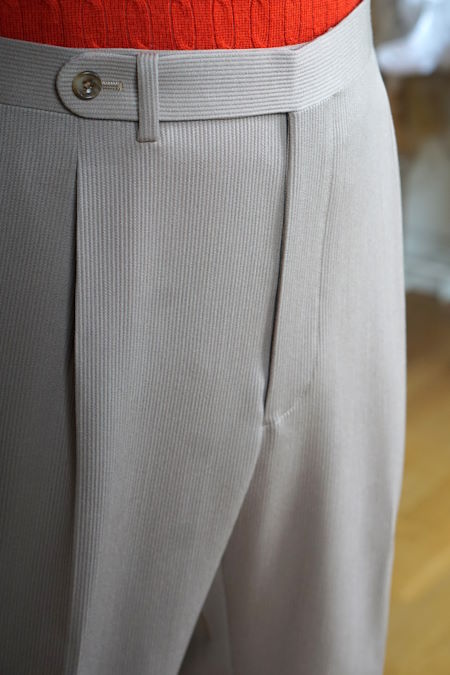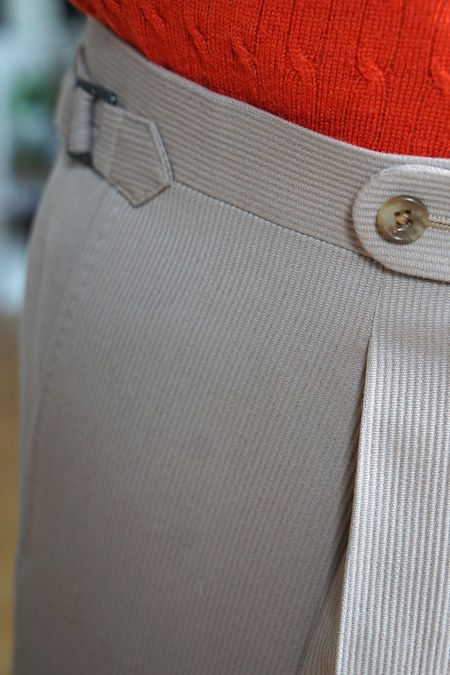 "It's a durable, heavy-weight, warp-faced fabric featuring vertically aligned ribs, similar in appearance to Corduroy and was subsequently the fabric employed by the Duke of Bedford"
Bedford was an accomplished administrator and soldier, and his effective management of the war was the driving force which brought the English to the height of their powers in France. However, tensions soon mounted once Joan of Arc came onto the scene, and his endeavours were further thwarted by political divisions back home and a deteriorating alliance with key collaborator Duke Philip of Burgundy and his faction, the Burgundians. Towards the end of Bedford's life, the conflict devolved into a war of attrition. He died in 1435, during the Congress of Arras, at the exact same time Burgundy was preparing to abandon the English cause and conclude a separate peace pact with Charles VII of France.
Having finally seen the cloth in the flesh, in both its black and beige iterations, I can report that it does physically resemble corduroy: except the ridges aren't as pronounced. Unlike corduroy, the ridges in Bedford cloth are woven in; they are not a cut pile. Its appearance reminded me of a more vertical (as opposed to diagonal) version of cavalry twill. While I'm aware the cloth doesn't have extinct status just yet, it's not as popular as it once was, which also appealed to me as an appreciator of limited editions. I just knew I had to commission a pair of trousers at the very least.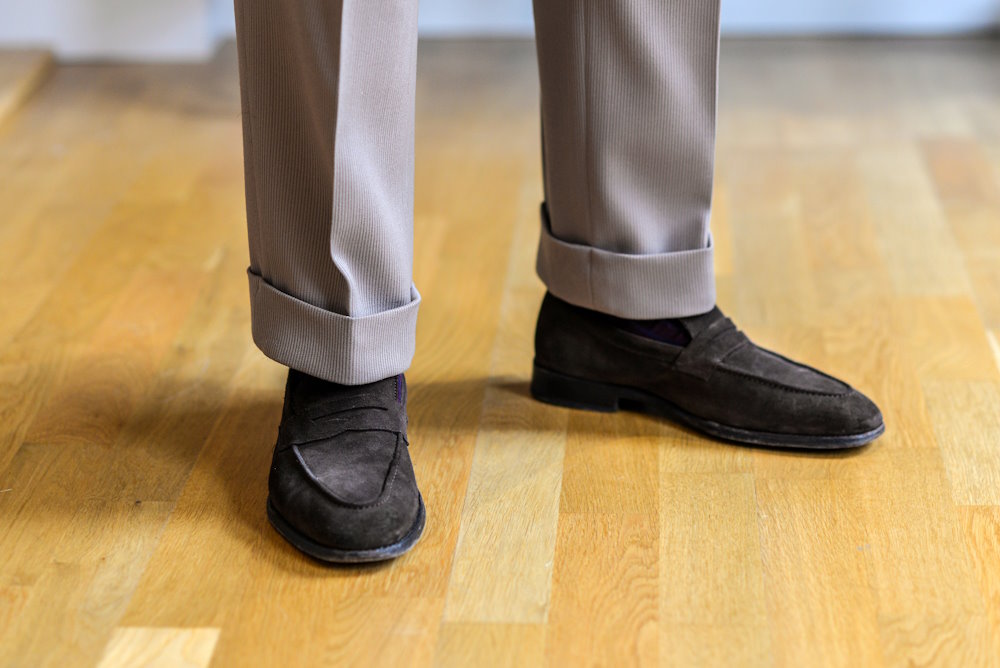 ACRE & ROW ATELIER, BEDFORD
I thought to myself that in an ideal world, I'd like them to be produced in Bedford. That's where Dav Sehra came in. Sehra established his menswear brand Acre & Row Atelier, which focuses heavily on made-to-measure, during the first lockdown and opened his Mill Street studio in the county town in September 2021. I'd known Dav for a while and was pretty sure he'd be as keen as I was on the idea of bringing the Bedford cord back to its rightful home. Sure enough, he was. So I popped in to be measured up: "We wanted to create these Bedford cords very much in the Acre & Row house style" says Sehra, "and Lee was super collaborative in letting us take the lead on it. As the cloth is quite sturdy we knew a slightly more relaxed silhouette than what Lee is probably used to wearing would work incredibly well." Therefore, Sehra opted for a high-waisted trouser to really showcase the cloth and create a longer line through the leg. "We then added internal brace buttons, an extended waistband closure, a single reverse pleat and a 2-inch turn-up" continues Sehra. "The result was a great mix of Lee's two go-to sartorial penchants: Italian and British styling in one trouser; the fuller silhouette provided utmost comfort for Lee, while the weight of the cloth really allowed us to keep the line through the leg neat and clean," added Sehra. Six weeks or so later, my made-to-measure Bedford cord trousers were ready and I have to say I am thrilled with the result.
NB. If you are inspired to give Bedford cord a go yourself, please note that it is no longer available from Huddersfield Fine Worsteds. Please order directly via Virgil Viret at Lafayette Saltiel Drapiers in Paris:
info@lafayette-saltiel.com
---