JOURNAL
Sartoria Carfora - defining the unusual
Newcomer to our recently reopened trunk shows, Sartoria Carfora brings to London a new twist on Neapolitan
Sartoria Carfora is the brainchild of Enzo Carfora, who established his own tailoring house in 2010 in the village of Frattamaggiore, 15 kilometres north of Napoli. But the dark-haired, immaculately coiffed Neapolitan wasn't destined for a life in tailoring until a chance visit to a friend's atelier. So enamoured was he by the sartorial wizardry on display at Sartoria Pirozzi, in Napoli's chic Chiaia neighbourhood, that he knew immediately that this was the career for him. It's a story of dogged determination: of a young Neapolitan not willing to take no for an answer in his quest to carve out a career. Initially rebuffed, Carfora literally bombarded Maestro Pirozzi with daily requests for an apprenticeship until eventually, Pirozzi, who'd grown tired by the insistence of this passionate young boy decided to renege and give him a chance.

His stubbornness paid off and a new career path was about to begin. "I remember the first day I started at Pirozzi, I was asked to stitch a lapel - I didn't even know what a lapel was" he says with a wry grin. But Pirozzi was just the first in line of a succession of tailors who Carfora would learn the art. It's impossible not to mention the impact Pino Alleva from Bologna had on Carfora (Alleva was personal tailor to the great Gianfranco Ferrè). He would enrich him with a style of training different to the traditional Neapolitan one - teaching him how to combine traditional and more classic styles with the Neapolitan principles - something that has been absolutely fundamental in shaping the current style of Sartoria Carfora, and the reason why Enzo's tagline refers to his atelier as 'an unusual tailor'.

In the meantime, he also began his friendship with the great Giancarlo Maresca, co-founder of the Cavalleresco Ordine (Maresca is the Gran Maestro of the Order of the Nine Knights - the idea behind the Ordine was to create a place where gentlemen could come together and share their combined passions for the finer things in life), who has become somewhat of a mentor figure in Carfora's sartorial progression. Maresca is respected all over Italy as a connoisseur of bespoke tailoring with an unparalleled knowledge of Neapolitan tailoring.

Traditionally Neapolitan tailors stitch a dart from top-to-bottom of the skirt (originally invented by tailor Peppino Miniello), but Carfora's dart is noticeably shorter, creating what he terms a bubble, which necessitates intense pressing - in Enzo's case a maniacial attention to detail which requires huge amounts of patience. The advantage of this is that it simplifies the tricky task of pattern matching checks and stripes - the fact that it requires more effort creates a more prestigious result. If he's not happy with the result he starts all over again.

Shoulders on a Carfora jacket are typically Neapolitan - big and unstructured, resulting in a shoulder that is altogether softer, more rounded with no padding - that it still remains flattering to the wearer takes almost a magician-like mastery to perfect. The length of the coat is marginally shorter and more boxy with less volume creating a very understated silhouette. Enzo's belief is that it's not the suit that makes the wearer, it's the wearer's inherent elegance that makes the suit - he'd much rather you remembered the person.

A Carfora jacket is usually double-breasted - mainly because Enzo doesn't like to show the shirt beneath, and if not, then it's a three-piece with the shirt still hidden by a waistcoat when the jacket is unbuttoned. The armhole is high in order to make the arm independent from the rest of the jacket - "it's very important that when the wearer lifts or moves his arm, the jacket stays where it is" says Carfora. "Trousers are usually cuffed, double-pleated at the waist and always intended to be worn with braces with no side adjusters."

Thanks to a love of fabric passed down from Maresca, Enzo has developed into a bit of a connoisseur of the cloth himself, "particularly those from Huddersfield Fine Worsteds, and I'm not saying that just for flattery" he adds, "no one makes fabrics like these."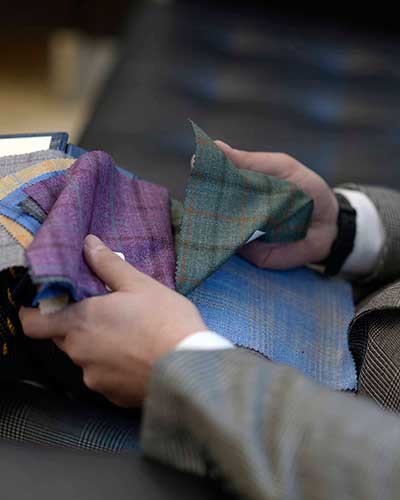 For details of upcoming trunk shows, be sure to follow Sartoria Carfora on Instagram:
@sartoriacarfora
---