JOURNAL
Design students tasked with creating new sports jacketing fabric
A Savile Row tailor and a tweed maker to the royal family have challenged students at Heriot-Watt University in Scotland to design a new a fabric for menswear sports jacketing.
Huntsman, a celebrated bespoke tailoring house in London that notably inspired the Kingsman movie trilogy, is partnering on the student project with Huddersfield Fine Worsteds, an internationally renowned fabric maker based in West Yorkshire.
The design challenge is being run as an industry project at Heriot-Watt University's School of Textiles and Design in Galashiels in the Scottish Borders. Students working on the project are in the third year of the School's four-year BA (Hons) Design for Textiles degree, which prepares graduates for careers in the fashion and interior textile design industries.
Campbell Carey, the Head Cutter and Creative Director at Huntsman, and Iain Milligan, Managing Director of Huddersfield Fine Worsteds, both trained in Galashiels at The Scottish College of Textiles, the forerunner to Heriot-Watt School of Textiles and Design.
Fiona Pankhurst, Assistant Professor in Woven Textile Design at Heriot-Watt School of Textiles and Design, said: "It's lovely to be working with industry professionals who are graduates of Heriot-Watt University, and for our students to be able to work with people with such a wealth of experience in the industry.
"The challenge for our students is to design something a bit different. They'll have to research the market area and think about the customer they're designing for."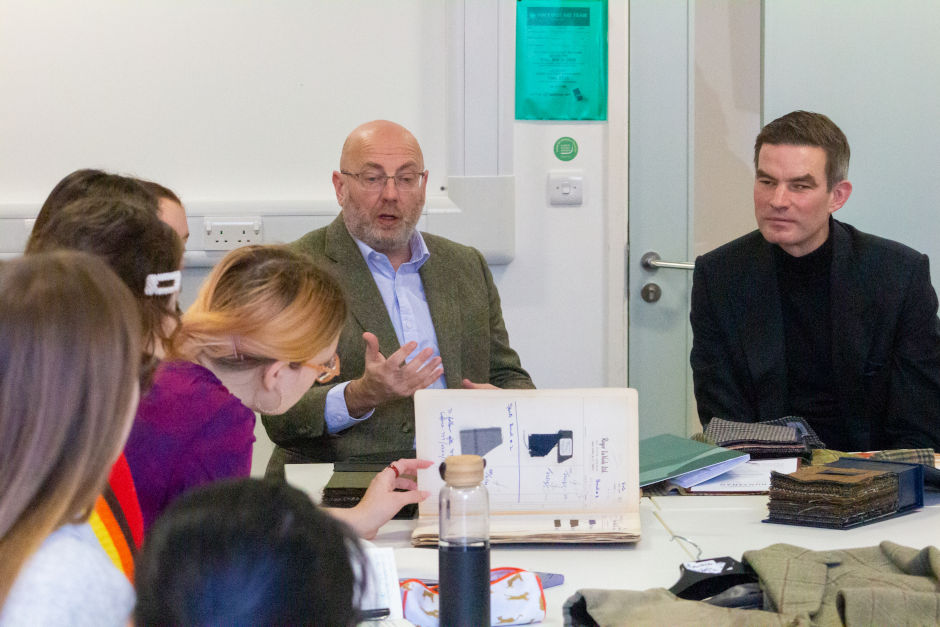 The winning sports jacket fabric design will be woven up by Huddersfield Fine Worsteds and used by Huntsman as a special design in part of their collection. The project will run during the BA programme's second semester, from January to April 2023.

Campbell Carey of Huntsman said: "Huntsman is passionate about supporting the next generation of talent. This project will give the students a comprehensive insight into the world of textiles and fashion in the luxury market, from inception all the way through to a tangible and commercial product."

Iain Milligan of Huddersfield Fine Worsteds said: "Our ambition with this project is to give students an insight into the industry. They can get involved in the fabric production side with me, and then see their design showcased in the Huntsman window. In terms of fabric design, I'm looking for a combination of ingenuity, excitement and something fresh."

Woollen yarn in 18 melange colours – blends of different coloured fibres – in soft shades of greens, greys and ochre, will be mixed to create the sports jacket textile design.
Knoll Yarns, a Yorkshire-based supplier of lambswool and pure new wool yarns to the UK and global knitwear and weaving industries, is providing discounted yarn for the project, while Huddersfield Fine Worsteds are bearing the rest of the cost.

As the three companies involved in the project are all British, air miles and transport costs will be minimal.

Huntsman was established in 1849 and has outfitted European kings and queens, Hollywood stars, musicians and designers including actress Nicole Kidman, musician David Bowie and fashion designers Coco Chanel and Marc Jacobs.

English film producer and director Matthew Vaughn was inspired to set the Kingsman films in a tailors after a fitting at Huntsman, which features in the movies. Huntsman also worked on 2022 crime thriller The Outfit, providing garments and training actor Mark Rylance for his role as a Savile Row-trained tailor.

Savile Row is a street in Mayfair, central London, that is famous for its luxury tailoring.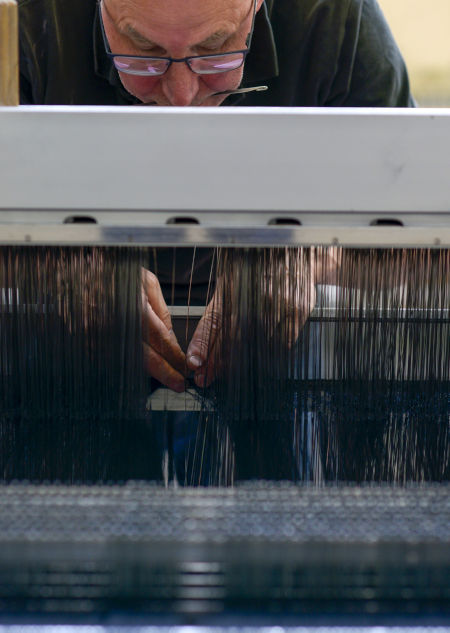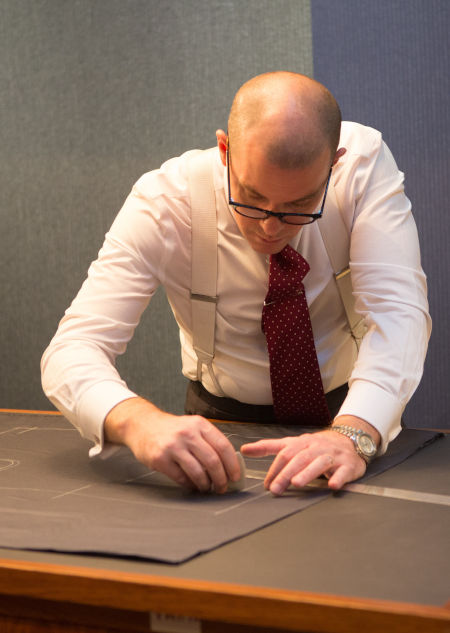 Huddersfield Fine Worsteds has roots as far back as 1532. The company is the only cloth merchant to hold a Royal Warrant to supply cloth to The Royal Household.

Knoll Yarns was established in the Yorkshire town of Ilkley in 1978 and exports its yarns worldwide to countries including Australia, Canada, China and Japan.

Heriot-Watt School of Textiles and Design dates back to 1883, when classes in weaving, dyeing and chemistry were introduced to train workers for the local textiles industry.

The School is a centre of excellence in design, with Honorary Graduates including British fashion icon Dame Vivienne Westwood. It is based on Heriot-Watt's Scottish Borders Campus, which is built around a historic mill in Galashiels, at the heart of Scotland's luxury textile industry.

Manufacturers in the Scottish Borders include Barrie, one of Scotland's oldest cashmere knitting manufacturers, which was acquired in 2012 by French luxury fashion house Chanel.
---